JEAN - PIERRE MEDAILLE, SJ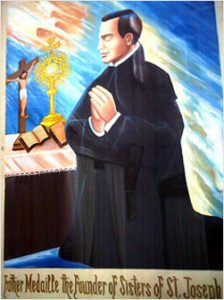 Jean-Pierre Medaille was born in Carcassonne, France on Oct. 6, 1610 and was educated at the Jesuit College there. He entered the Society of Jesus in Toulouse shortly before his 16th birthday and was ordained in 1637. He went on to serve in a succession of administrative offices in the Society that utilized his considerable intellectual gifts.
Medaille was also a gifted spiritual director and a superb preacher. In 1645, he was assigned to preach parish missions. It was during these missionary tours that he encountered several young single women and widows who confided in him their desire to consecrate their lives to God and the service of the people in need while living in the world.
In Le Puy-en-Velay, the Saint-Joseph hospice for orphans and widows was under the authority of Bishop Henri de Maupas. He had been a friend of Saints Vincent de Paul and Francis de Sales. Both of them had founded congregations of women engaging in apostolic works outside the cloister (a requirement for women religious at the time). Father Medaille approached the Bishop with his little design for women who wished to combine holiness of life with apostolic activity, and the Bishop responded favourably.
He handed over the administration of the Le Puy hospice to the six women who formed the nucleus of the new congregation of St. Joseph. On Oct. 15, 1650, Bishop de Maupas gave them official approval as a religious congregation.
Father Medaille's legacy to the Sisters of St. Joseph includes Constitutions and also a spiritual treatise called the Maxims of Perfection, the Maxims of the Little Institute and a letter to one of the first Sisters proposing the Eucharist as a model for the congregation. These continue to guide the lives of the Sisters of St. Joseph.